THE AUSTRALIAN HOME OF THE NEWFOUNDLAND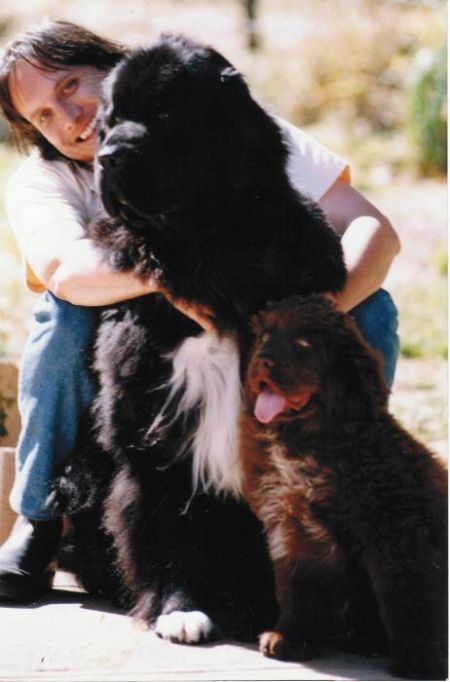 HERE AT NEWFASHION
"It's not who we are
it's what we do that defines us"
**********
THE SUCCESS OF OUR BREEDING PROGRAM
Welcome to the Official WebSite of NewFashion Kennels. As you might have guessed by the title, "Australian Home of the New Foundland", we call Murray Bridge, South Australia home.
Let me take a minute to introduce ourselves to you….
Brief History
We purchased our first Newfoundland in 1989 from a kennel in Victoria. Not knowing a lot about the breed at the time, and only going on information that we could find in books, the initial introduction to the breed was a real learning experience.
Our Dogs
Quality Improvement is the key to any well run business and breeding excellent dogs is no exception.
Established in 1989 the Newfashion prefix is held in high regard. We have continued to strive towards a best practice approach which has seen our breeding program go from strength to strength.
Our dogs are recognised locally and overseas as being fine examples of the breed and our stud males have been used extensively to reproduce true bred type in Australia, New Zealand, Italy and the USA.
Puppies are bred from imported lines which we have personally selected to complement our breeding program, they are raised in a family environment with all effort being made to ensure that carry optimal health status.
Our Mission:

To strive towards producing top quality Newfoundlands in all colours with an emphasis on excellent browns, and a primary focus on health, temperament and type.
Enquiries always welcome.
Please make yourselves at home here at NewFashion Kennels. We hope you enjoy our website and if you have any questions feel free to e-mail us.
Newfashion Newfoundlands are members of the following:
Dogs SA (Registration with Canine Control Body)

The Newfoundland Club of Victoria.

The Newfoundland Club of South Australia.
Acknowledgements:
We would like to acknowledge the following people from around the world who have assisted us in our quest.
Joanne Givens (Springhaven Newfoundlands) for sending us:-
Springhavens Nugget Girl (USA)
Gnut Berglie (Toppoloppo Newfoundlands) for sending us:-
Toppoloppos Ebizz for Newfashion (NWY)
Joelle Mauguy (Etoile de Cyrice Newfoundlands) for sending us:-
CH V Gold Digger De Letoile De Cyrice (FRN)
Claudia Parrini (Take It Slowly Newfoundlands) for sending us:-
Babe Take it Slowly (ITY)
INT Ch JohnJohnFitzgerald (frozen semen)
Main Tickle Red Admiral or Pow Wow (Frozen Semen)
The Outstanding Aire (Frozen Semen)
June and Howard Parker (Evanpark Newfoundlands) :-
UK CH Evanpark Bruce Akmighty (Frozen Semen)
AM CH Fairweathers Kindred Spirit (Frozen Semen)
Nancy Ochse (Casa Loma Newfoundlands):-
AM CH Egebeaks After Eight (Frozen Semen)
Milena Polini (Thickish Newfoundlands):-
IT CH Thickish Newfoundland Keeper of Freedom (Frozen semen)
Piotr Paesek (Poland)
INT CH POLISH CH Black Pretender Kazo Slupski (Frozen Semen)
Mike and Chris Binks of Nordic Angel Newfoundlands for sending us
Nordic Angel Giselle (IMP UK)
Maja Pawlowska (Cancrimo Newfoundlands Poland) for sending us
Cancrimo Cezar (IMP POL)
Dagmar Velcicka of Mississippi Missiuri Newfoundlands Slovakia for sending us
Mississippi Missouri Ura (IMP SLK)
Contact Details
Ian Harland
Murray Bridge, SA, Australia
Phone : 0411607208
Email :
[email protected]